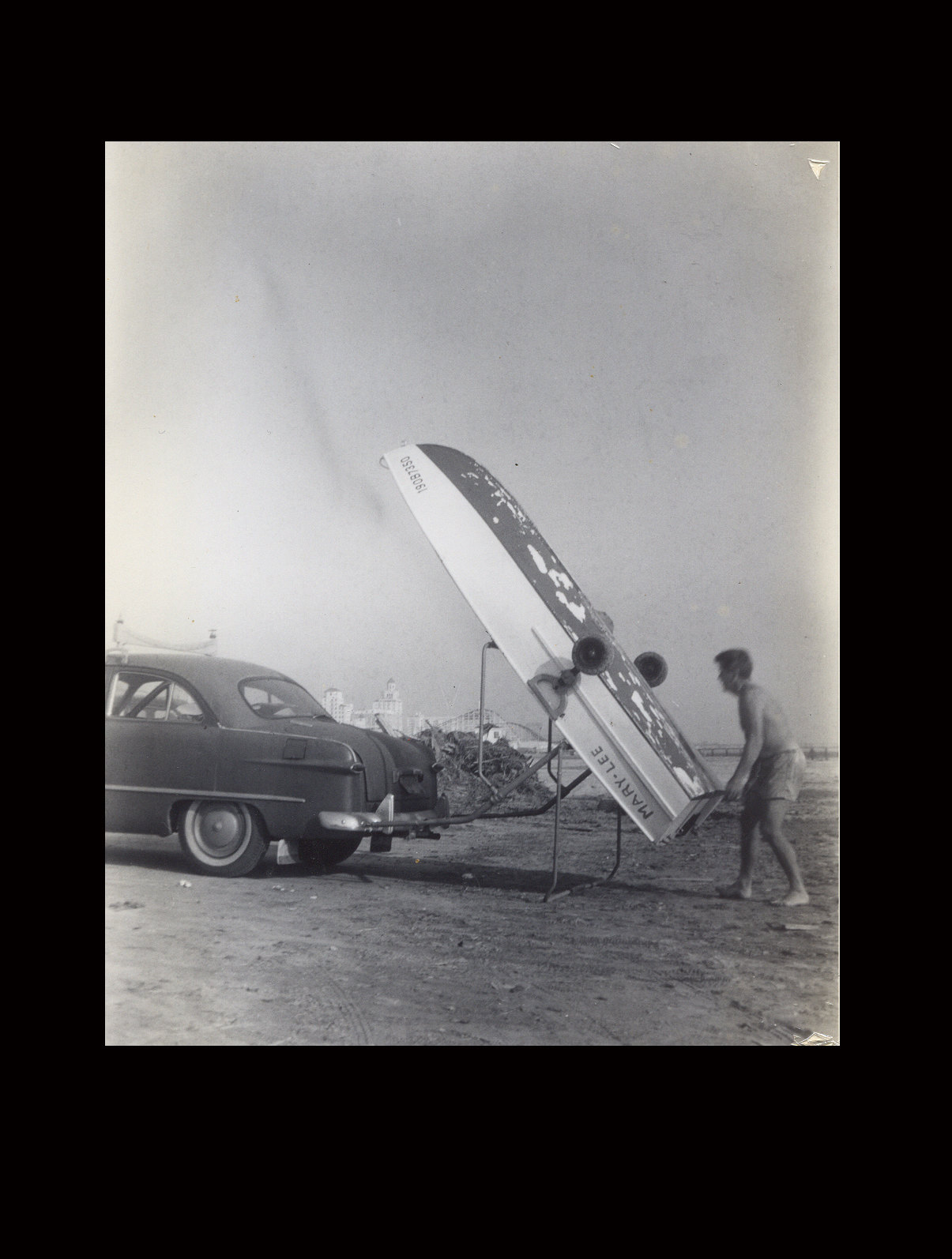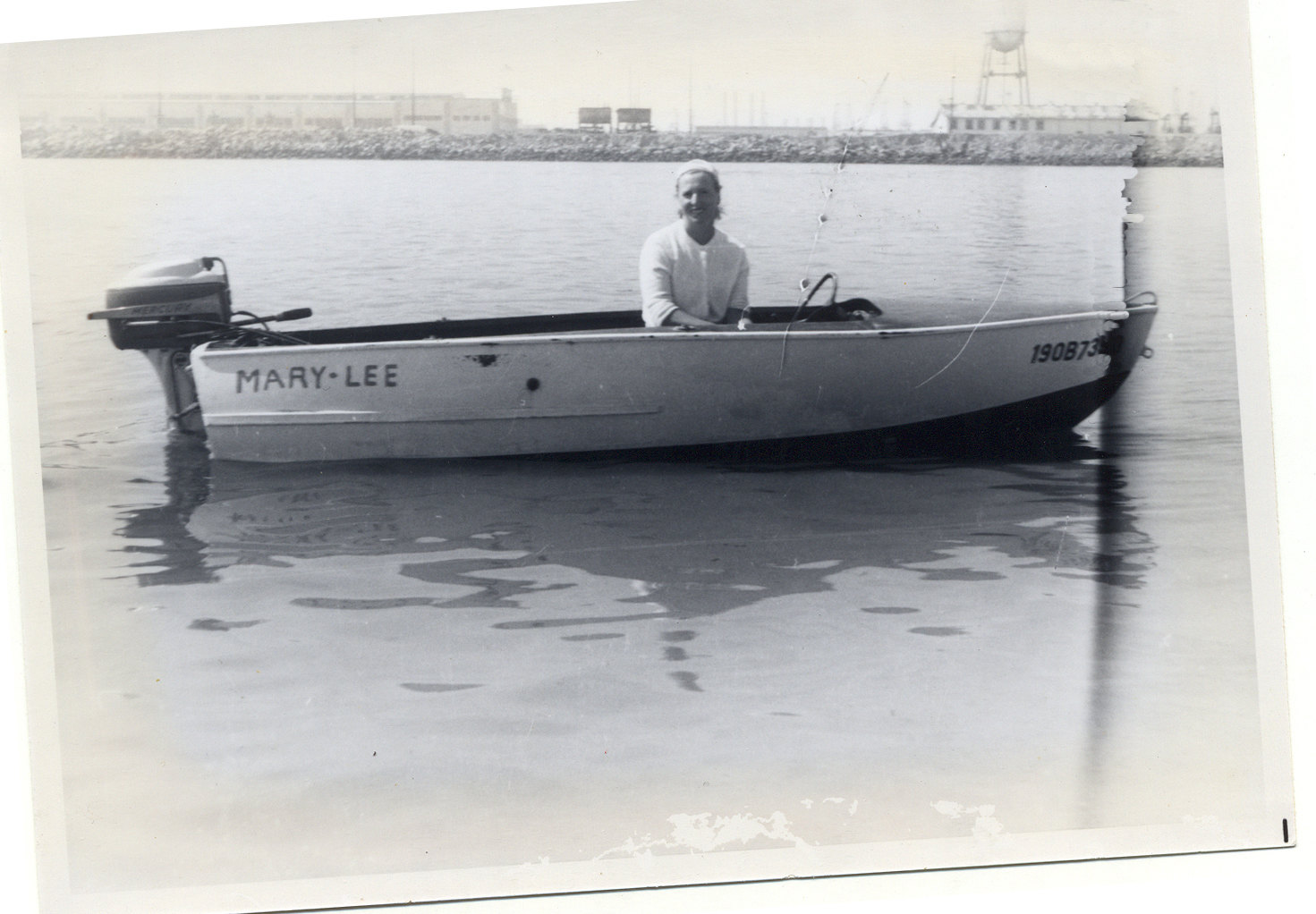 MIKE MURPHY'S TIMELINE OF SKIING
 "50+ Years of Invention and Innovation in Watersports"
1956: Murphy learned to ski behind a 12-foot wooden boat with a 18 hp Mercury motor in Pine Flats, CA.
1956-1965:  Murphy enjoyed recreational skiing with an emphasis on water time. Focus: slalom, tricks, barefoot, and ski racing.
Starting in 1962 at age 14 Murphy won three Catalina Ski races in the Outboard Division. This 52-mile race takes place yearly across the open ocean off the California coast. In the 1960s and early 1970s Murphy won a multitude of circle races in various divisions and categories.
1966: Murphy graduated from high school and spent the summer as an instructor at the Lake Arrowhead Ski School in California.
1966-1968: Mike performed as a show skier for the Tommy Bartlett Show in Wisconsin Dells, WI.
1968: Winner of Lake Mead 75-mile race, men's open division.
1970-1974:  Murphy skied 4 seasons at the Marine World Africa, USA ski show near San Francisco, CA.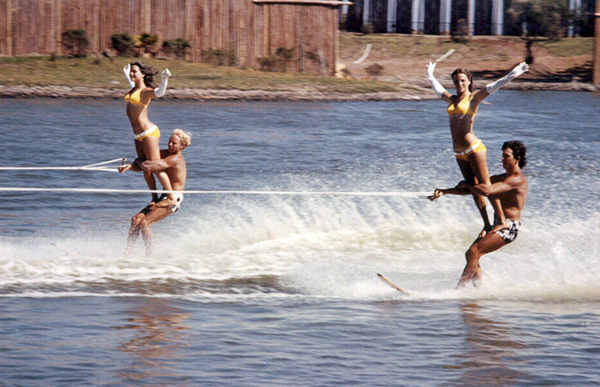 1970s: Mike became the Father of Hot Dog Slalom Skiing. His featured moves on a standard ski included a wake helicopter, backwards deepwater start, spectacular wake jumps, and the tumbleturn.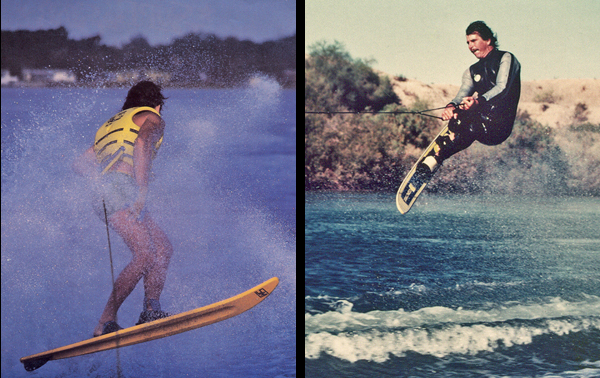 1972: Murphy and Bud Hulst co-invented the first production kneeboard, the Knee Ski.

1974-81 Mike went to work for Ski Master, appearing in various print ads. He spent the majority of three years on the road at boat shows in the winter and performing on-water demo days across the country in the summer.
1975: After years of Boat and Ski tests for Powerboat Magazine, Mike appears on the cover.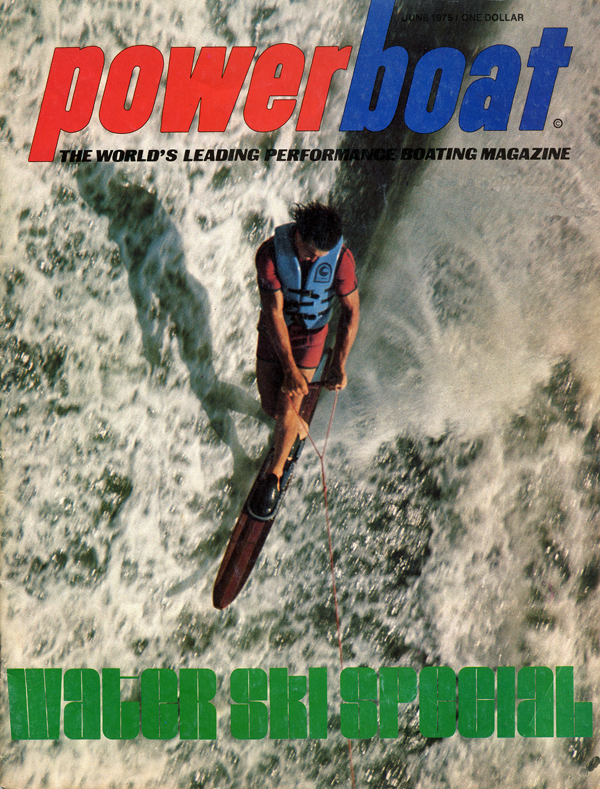 1975: Murphy spent six months show skiing for Tommy Bartlett at the World's Fair in Okinawa, Japan.
1976: Murphy founded Tunnel Board (a kneeboard company) with Andy Remy. He spent another year on the road.
1978: Murphy won the Endo's International Ski Drags in Long Beach, Ca with a speed of 118.92 mph. He used a borrowed ski that was right foot forward (he is left foot forward) behind an unfamiliar boat driver.
1979: Superstar in Spray Magazine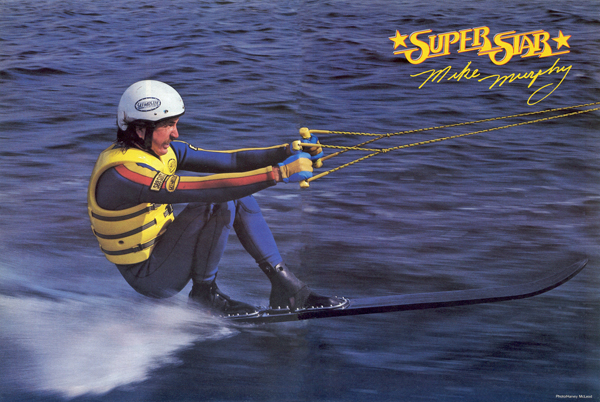 1976-1983:  Mike operated a pro shop and ski school on the Colorado River near Parker, Arizona. He personally taught thousands to ski with his unique in the water style.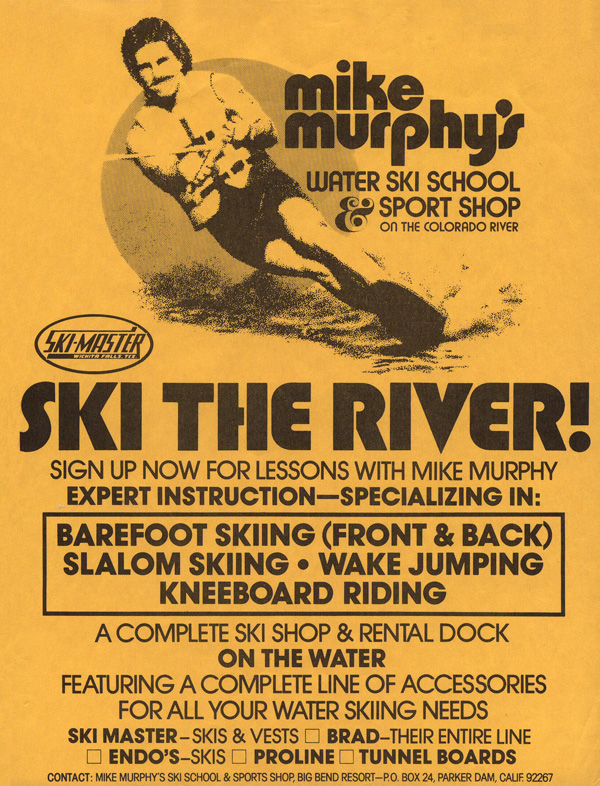 1981: Mike develops the SM1 for Ski Master. It is the first kneeboard designed specifically for tricks.
1982-84: Mike's Shop at the River becomes known as the "Hotdoggers' Hangout" in a group that includes his nephew Tony Klarich and fellow River Rat Mike Mack. The Parker Strip becomes a hotbed for photographers including Art Brewer and Rick Doyle.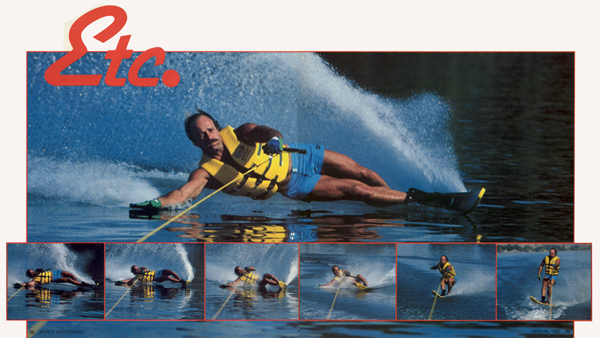 1984-1985: On the road again, his time for Herb O'Brien. Murphy traveled the nation exhibiting, selling, and demoing HO skis. He was instrumental in helping to get HO on the map.
1979-1983: Murphy gave back to skiing when he spent many days each summer pulling and teaching physically and mentally challenged children and adults.
1980-1995:  Murphy operated a water ski pro shop in Mira Loma, CA.
1983, 1984, and 1986: Murphy fine tuned boats for Eliminator and Ski Sleek during tests for AWSA approval. They all passed.
1985: Mike and Bob Woolley develop the kneeboard hydrofoil and sell it to Kransco, makes of the Hoola-Hoop and Hydroslide.
1989:  Murphy and Bob Woolley co-invented the Air Chair and launched a lucrative company.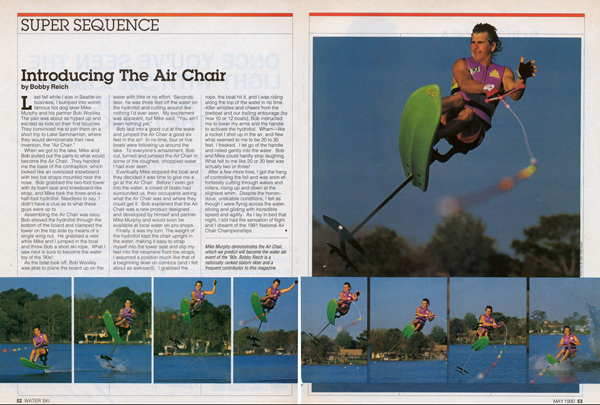 1990: At age 43 Murphy becomes the first person to ride away from a flip on the Air Chair.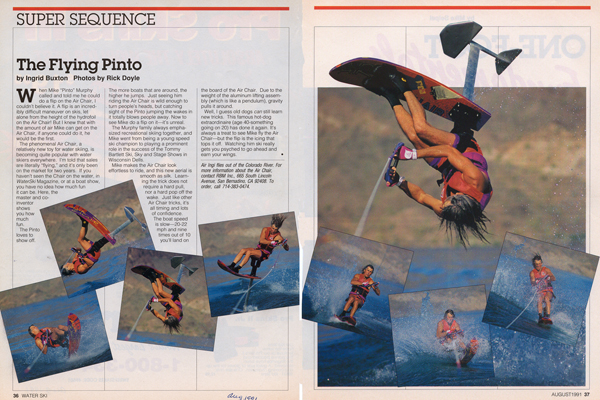 1990s: Mike becomes a media magnate on his new toy, with worldwide appearances in dozens of magazines including Sport Illustrated, Playboy, and Popular Mechanics.
1990-94 – Murphy invents several new moves on the hydrofoil including the air (pogo) roll, hand-to-hand helicopter, and submarine.
1990-94: Murphy toured with the Water Ski Pro Tour and International Outboard Grand Prix Association giving Air Chair exhibitions for crowds up to 20,000.
1994: Mike is inspired to hold the "Fly-In" for hydrofoiling. The friendly gathering of riders continues to this date.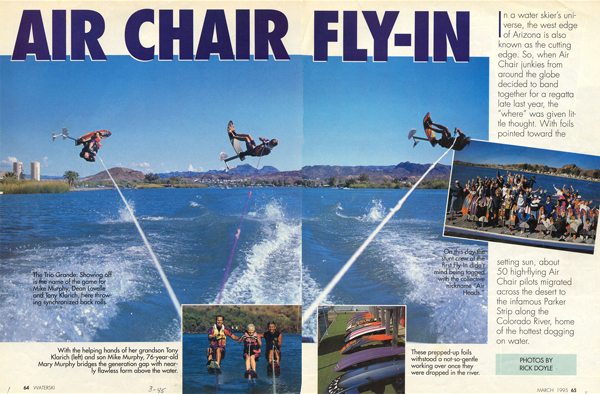 1994: Mike Appears on a special edition Wheaties box, prepared by a big shot at General Mills who he taught how to ride.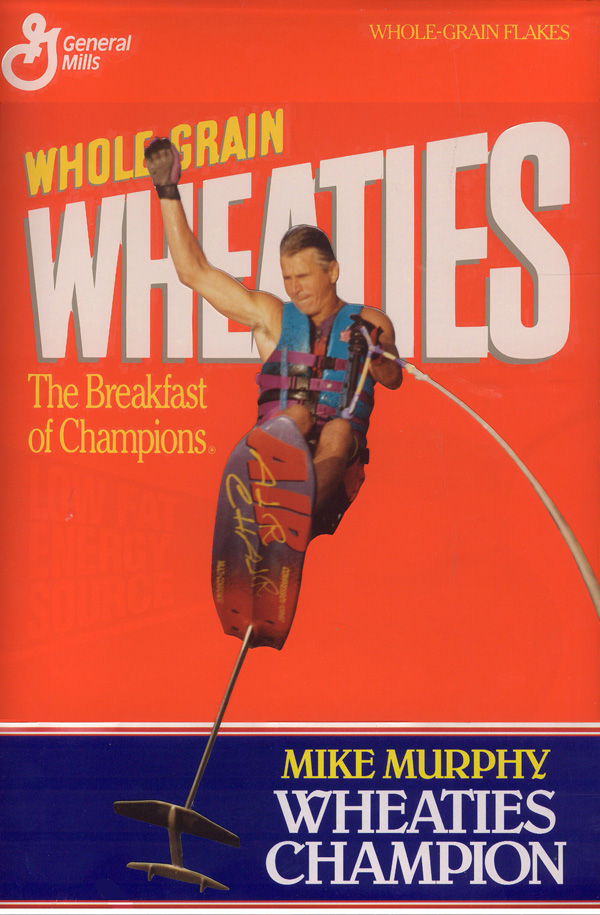 1995: 708 flips in one ride without stopping or falling! Mike performs inverts for two straight hours to set the first truly substantial flip record in water skiing.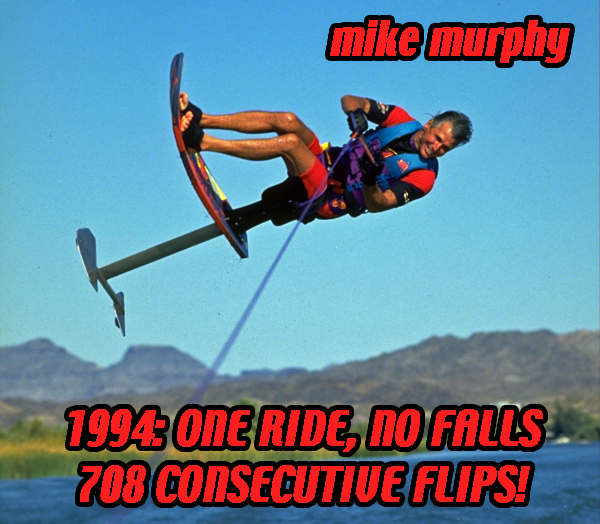 1996: Tommy's Slalom Shop inducts Mike into the Hydrofoiling Hall of Fame.
1998: Mary Murphy (Mike's mom, age 79) rides her hydrofoil to Catalina Island for the first time. She completes the 52-mile round trip across open-ocean 8 more times in her 80s. Mike drives or observes for every crossing.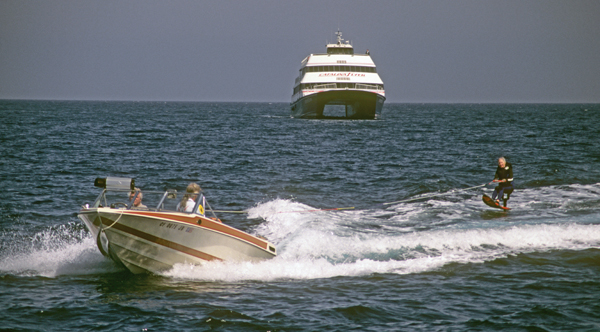 1998-2004: Mike leaves Air Chair and launches Sky Ski.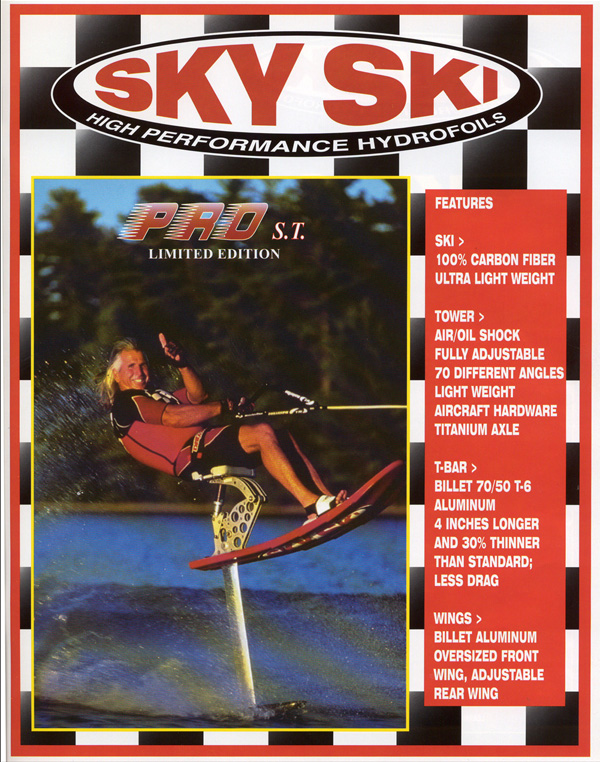 1998: At age 50 Mike wins first place at the MasterCraft Flight Worlds. He jumps 19′ to win his first World Title.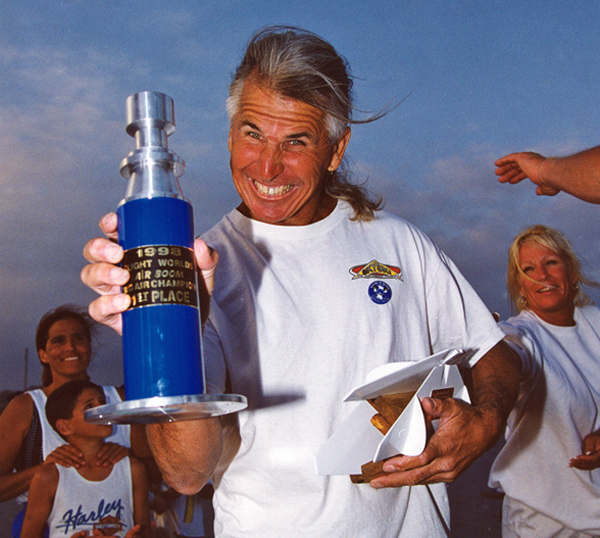 2001: Mike releases the Convertible – A Sky Ski hydrofoil that can be ridden standing up or sitting down.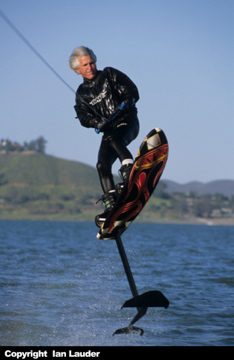 2001: Mike receives a patent for the PureVert wake enhancement system that provides 700 pounds of ballast in less than 45 seconds – all without pumps.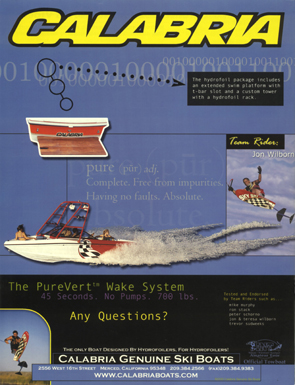 2012: Murphy develops the Instafill. This revolutionary ballast system fills or empties 1,000+ Pounds in UNDER 5 SECONDS without pumps!
2013: Mike gets back in the game again with his third hydrofoiling manufacturing company, Next Foils.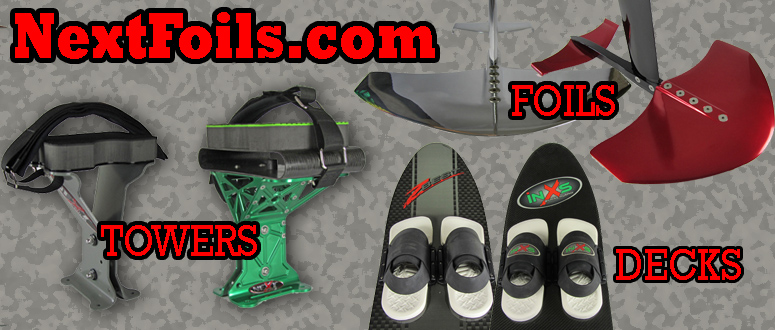 2013: Mike experiments with building super tall hydrofoils.
2013: After discovering his 10 foot foil is not the tallest, he builds another at 11 feet 3 inches to set the new world record. Standards require the front blade to pierce the surface of the water and for the rider to recover for the record to be official.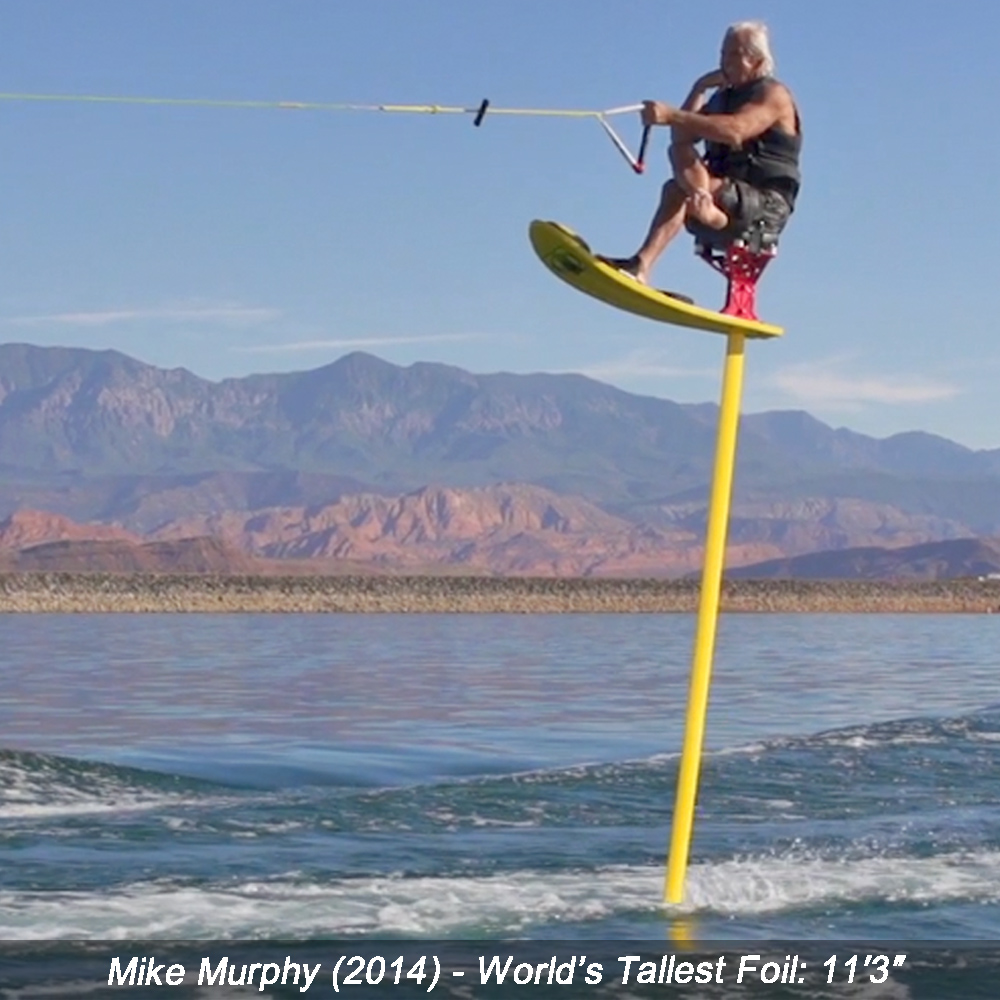 2014: Mike and his nephew Tony Klarich team up to produce a series of how to hydrofoil videos. They are available for free on YouTube